Reformed/Charismatic/Missional Conference - Session 3 - Jeff Vanderstelt
Saturday, March 05, 2011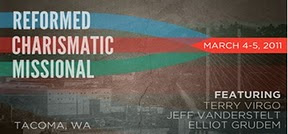 Session 3
Who You Are and What You Do
Jeff Vanderstelt
________________________________
About the Speaker: Jeff is a Church Planter who leads Soma Communities, a body of church planting churches in the South Puget Sound. He also serves as Vice President (West) of Acts 29 as well as the Church Planters Advisory Council for the Conservative Baptist NW Association. Jeff spends most of his time equipping church planters and church leaders in gospel-centered leadership and missionally focused methodology. He has been planting churches for seven years. Prior to that he was a youth pastor in four different churches over the span of 14 years, the most recent being Willow Creek Community Church in Chicago, IL. Jeff has been married for 18 years to Jayne and together they love and shepherd three beautiful children in the gospel and mission of Jesus Christ.
_________________________________
The greatest challenge for the church is doing the hard work of helping people learn their identity in Christ, instead of the easier work of telling them what to do in hopes that they'll figure out their identity. The harder work is the best work. The easier work is the worst work. The question put to us as leaders this morning is this: Have we led our people to understand their identity as God's children? When this question is answered, the next one is: What must we DO as children of God? Buiding our people's confidence in their relationship to God and with God, builds their confidence to DO what God calls them to do. In short, God has called you to BE the following type of people...
1 Peter 2:9 - "But you are a chosen race, a royal priesthood, a holy nation, a people for his own possession, that you may proclaim the excellencies of him who called you out of darkness into his marvelous light" (ESV).
Notice first the present tense, "you ARE..." This is a real, present-day reality about our identity. Notice second the names he calls them: "chosen race...royal priesthood...holy nation...a people for his own possession..." Sometimes we need to read our Bibles more slowly, and this is just such a place where we need to do this. When we miss the present tense reality of our identity, as well as the names God has given to us, we will miss the depth and effectiveness of our ability to "proclaim the excellences of him who called" us out of darkness.
Subsequently, we will also miss any effectiveness we would have had otherwise in our suffering, which is where Peter takes his people next in the following verses. Suffering for God in a godly way that is effective can only happen when we live in a present tense reality of every part of the identity to which God has called us and given to us. It all starts with knowing WHO you are.
1. You are a Chosen People...Not Person..
Our identity as children of God starts with God as our Father. He calls us His children. Getting a hold of that in a deep and effectual way enables us to love one another like He loves us. When they become "victims" of our love, they will be drawn to us to inquire why we live like this? This is what Jesus talked about to His disciples when He said that the world would know our identity by our love for one another. But that life-altering kind of love for one another can only come by a life-altering love of God which we firmly grasp in our hearts and minds with zero doubts of any kind.
Jesus prays in John 17 that the unity of His children would exist to the same depth and degree as the Father and the Son. When THAT happens, the world will know that God has sent Jesus on a mission to love them, too. God's intent is for His people to love one another in order to win others. But again, this happens only when there is a oneness between us and God grounded and founded in His love for us as His children.
Missional communities begin with this question: What would it look like for a group of people to live like they love one another, just like God loves them? It starts with knowing this fact: God loved me anyway when I didn't love Him. Knowing this changes how we live life. We no longer live our lives in the radical individualism our culture demands of us. But the Scriptures say we are a chosen nation, which is a plural word...a GROUP of people. This means God saves me from ME. And He installs me into a COMMUNITY.
This community is based on unconditional love, the kind reflected by Jesus on the cross, when He prayed, "Father forgive them, because they don't know what they are doing." What if Jesus said instead, "Father let 'em have it, because they don't know what they are doing." That's how too many of us live. And we live like that...absent of love...because we have forgotten (or else we never knew at all) that we are children of God who have been unconditionally loved by God...when we were unlovable.
This is essentially what Peter is telling his people in the second chapter of his letter. He wants his people to live their lives in such a way that other people are led to worship God. This means people are being led to make much of Jesus, even if we look like an idiot doing that! He gets glory from the WAY we live, and we are leading them to a Father who loves them when we do that.
2. You are a Royal Preisthood.
The church is a people of ambassadorship. We are royal representatives of King Jesus. That's what a missionary is...an ambassador of Christ preaching reconciliation (2 Cor. 5). This means the entire people of God are a missionary people of God, always sending and being sent out to live extraordinarily different from the world to get the world's attention and lead them to the King. We appeal to the community around us to look and see what reconciliation is like.
This is a call to radically reorient our lives in such a way that we can live among those who are unlovable in order to lead them to the One who loves them. How do we change the way we spend our money? How do we alter the way we go out to eat, or buy groceries? If we were to have to move to another country, what would we have to do to reorder and reorient our lives to minister? Now apply the answer to that question to right now, where you currently live, in what you're currently doing. This turns the church from something you add to your life, to becoming YOUR LIFE! This makes us a people who have the same mission as Jesus.
Too many pastors believe their people are not capable of much. Yet when believers get this, they can and will do extraordinary things for the kingdom.
3. You are a Holy Nation.
Jesus is not just our Savior...He is our LORD. This is good news, because as LORD He has conquered sin, Satan, and death. The kingdom is a kingdom because it has a King...a Lord. His kingdom is THE place to be, because the King is THE person to be with and be loved by. That kingdom is here and now...right now.
Yet it isn't here in fullness yet. So this causes us to live in tension because there are various aspects and parts of the kingdom which are NOT here yet, but which we WANT to be here...and which we are TAUGHT to pray for in the Disciples Prayer: "Let your kingdom come and your will be done on earth like it is in heaven." The way we live should make people want that future kingdom to come to earth here and now...today...right now.
As King, Jesus was a servant. He was a servant-king. And if He is our master, then the servant isn't greater than the master. That means we are servants, too. So what would it look like to live in a missional community as a servant-people...a family of missionary servants? The lost are the people we serve, just like Jesus...who came to seek and save the lost...who came to serve and not to BE served.
To ratchet it up a bit, when Jesus' people serve we are to serve others like we are serving Jesus. Too often we end up serving people like we are serving people, instead of serving Jesus. What we do to the least of these is what we are doing to Jesus Himself. Matthew 25 is blatantly clear about this lifestyle, which ends up looking like second-nature responses on the part of Jesus-followers. This lifestyle produces the demand for an answer and explanation from outsiders. Too often, however we end up living a lifestyle that doesn't demand an explanation. Until our lives are radically different, demanding an explanation, we will go unheard by outsiders, by the lost.
One of the most significant ways we live like this is through hospitality. This is NOT Christian fellowship. This is taking total strangers into our houses in order to allow them to belong...then believe...and then behave, in that order...resting, rejoicing, and repenting, in that order.
Any other lifestyle that we live is a lifestyle of unbelief. Jesus says that believing in Him means doing what He said...obeying His commands. Living like this means believing that He has purchased us, our lives, including our stuff, so that EVERYTHING we are and have belongs now to Him and is to be used for His purposes.
Conclusion
Lead your people to know who they are in Jesus Christ. This will necessarily lead them behave in such a way that it implicates their lives. What they do implies who they are...and who they belong to.
- Posted using BlogPress from my iPad
Location:N Starr St,Tacoma,United States