The Gospel on Homosexuality: Jonathan and David as a Picture of Gospel-Driven Love
Tuesday, February 15, 2011
When God created Adam, was His original design androgyny?
Did God intend to create an asexual being without reference to anything related to being "male" or "female"?
When God created Eve, was heterosexuality between them "an afterthought designed to give back the man what he had lost"?
Per scholar and pastor, Jennifer Wright Knust, in her recent CNN Belief Blog post, this is just what the creation accounts in Genesis are supposed to teach us. The account in Genesis 1 of God creating male and female in His image is supposed to teach us that "God's original plan was sexual unity in one body, not two...that God's blessing was first placed on an undifferentiated body that didn't have sex at all." And the second account of creation in Genesis 2 is supposed to teach us that "when the androgynous, dually-sexed person was placed in the garden, s/he was divided in two." Therefore, heterosexuality must have been an "afterthought," as referenced earlier.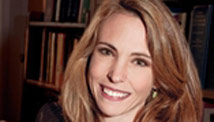 In my previous post on this series, I attempted to deal with Knust's interpretation of the Genesis creation accounts, as well as her understanding of sexuality based on those accounts. The primary issue I took there was the underlying challenge she presents to the historicity, reliability, and integrity of the Bible as a historical record. Assuming that because Genesis 1 and 2 is primarily poetry, she is driven to divorce history from the equation, thereby relegating what is written there to philosophy about sex. In turn, this allows Knust, as well as many others in this line of thought, to redefine sexuality so that all versions of sex are eventually allowable by God. In other words, if one redefines what God originally intended about sex, then whatever I conceive about sex could conceivably fit into the trajectory of His original intention.
This is just what Knust does in the remainder of her article, which begins with the conclusion regarding God's original design of sexuality in Genesis 1 and 2. She believes that, "Despite common misperceptions, biblical writers could also imagine same-sex intimacy as a source of blessing." After all, if God's original design was androgyny, and if heterosexuality was simply an "afterthought," then one could argue that homosexuality is just as much of an afterthought. Yet Knust seems to go further in implying that it may be more legitimate - perhaps a before-thought - than heterosexuality.
She uses several biblical examples to argue her point. The first comes from the friendship David had with Jonathan. For Knust, "the seemingly intimate relationship between the Old Testament's David and Jonathan, in which Jonathan loved David more than he loved women, may have been intended to justify David's rise as king." It would have been good to see that point footnoted, as Knust did a couple of other times in her blog post, because as a theological student of exegesis for two decades now I have not come across an interpretation such as this, described here by Knust: "Jonathan, not David, was a king's son. David was only a shepherd. Yet by becoming David's 'woman,' Jonathan voluntarily gave up his place for his beloved friend." So in essence, David became the heir to the throne by becoming a princess to the kingdom via his homosexual relationship with Jonathan. Interesting...and far-fetched to say the least...but not because I'm a heterosexual.
The reason it is far-fetched is more a biblical one than it is a sexual one. Perhaps David's relationship with Jonathan is intended by the biblical writers to "justify David's rise as king" in ways other than those related to sexuality. But such an interpretation seems foreign to me - at least, right now - in light of the more obvious readings, like the ones in 1 Samuel 13 and 16 where the reason for David's rise to become king is plainly stated.


13:13-14 And Samuel said to Saul, "You have done foolishly. You have not kept the command of the

Lord

Lord

would have established your kingdom over Israel forever. But now your kingdom shall not continue. The

Lord

has sought out a man after his own heart, and the

Lord

has commanded him to be prince over his people, because you have not kept what the

Lord

your God, with which he commanded you. For then the commanded you."


16:1 The

Lord

said to Samuel, "How long will you grieve over Saul, since I have rejected him from being king over Israel? Fill your horn with oil, and go. I will send you to Jesse the Bethlehemite, for I have provided for myself a king among his sons."


16:6 When they came, he looked on Eliab and thought, "Surely the

Lord

's anointed is before him." But the

Lord

said to Samuel, "Do not look on his appearance or on the height of his stature, because I have rejected him. For the

Lord

sees not as man sees: man looks on the outward appearance, but the

Lord

looks on the heart."
A plain reading of the texts shows that Saul was a disobedient king who did not follow God's will. The biblical writer then seeks to contrast that to the kind of king God wanted to rule over His people all along, someone "after His own heart," which in light of Saul's disobedience is translated, "a man who will follow My will." The rise of David to become king then, in light of a simple reading of the texts, seems far more clear than Knust's assertions regarding David's sexuality. And this is just what we found in the creation accounts of Genesis 1 and 2, discussed in my last post.
This whole issue leads us right back again to the bulls eye of handling the Bible with the same kind of integrity Knust desires us readers to handle her writings. This is not a judgmental or critical or ill-willed statement, by any means. Again, I would love to sit down and enjoy several conversations with Dr. Knust on these issues, as well as her own personal life. But "rightly dividing the Word of truth" is essential if we are properly understand this issue of sexuality.
This issue aside, we still have not addressed Knust's obvious main point that she believes David and Jonathan enjoyed a homosexual love for one another. While her implications of their relationship are inherent in her conclusion, her actual statement is one I agree with, yet for different reasons and purposes.
"Sealing the covenant, David swears his devotion to Jonathan, 'for he loved him as he loved his own life' (1 Samuel 20:17). When Jonathan is killed, King David composes a eulogy for him, praising his devotion: 'greatly beloved were you to me; your love to me was wonderful, passing the love of women' (2 Samuel 1:26).
In light of the explicit contrasts between Saul's throne and David's throne, and in light of the fact that God declared David to be a man after His own heart, is it more believable that Jonathan's love for David is expressed by the biblical writer to show us that love for God's will is a stronger bond between two people than natural love for a woman (or for a man)? Jonathan knew God had anointed David. And Jonathan knew how wicked his father was. Yet Jonathan, the man of integrity that he was, honored his father's throne to the point of dying with him, while at the same time honoring God's will regarding David's throne. Equally a man of integrity, David honors Saul's throne while Saul is alive, even refusing opportunities to kill Saul when he had the chance, while at the same time doing everything he could to stay alive by the promise of God's will for him to be king.
It is in this way that I think perhaps the biblical writer used David and Jonathan's love for one another to justify David's rise to become king. It wasn't sexual. It was spiritual. It went beyond the natural bonds of sexual love. And that's explicitly what the text says, right? "
very pleasant have you been to me;
your love to me was extraordinary,
surpassing the love of women." Notice that the love spoken of here is "surpassing the love of women."
Essentially Knust is basically saying that homosexual love surpasses heterosexual love. But the biblical writers, in light of the context, seem to be plainly trying to say that the love that existed between them surpassed heterosexual love as a spiritual one, and not as a another form of sexual love. In other words, their relationship surpassed the natural bonds that existed in any sexual relationship, because it was spiritual, rooted in their love for God's will and plan over and above any other thing that existed on earth.
Knust's take on this relationship between Jonathan and David does not seem to flow from the plain reading of the Scriptures. I have attempted to offer one that does, essentially pulling the rug out from beneath the claims of those who believe homosexuality was a part of God's original design. Reading the Bible with integrity eliminates this understanding when it comes to Genesis 1 and 2, and it does the same with a reading of 1 and 2 Samuel. Tomorrow, I will attempt to examine her claims regarding Sodom and Gomorrah.
Gospel-Driven Love Goes Beyond Heterosexual...or Even Homosexual Love
For now, the gospel is the root of this issue. Jonathan and David shared a love for each other that far exceeded any natural or even sexual love in other relationships. The reason for this kind of love is plainly revealed in 1 John 3:16. "
By this we know love, that he laid down his life for us, and we ought to lay down our lives for the brothers." The story in 1 Samuel reveals clearly and plainly that Jonathan laid down his life for his brother, David. He did this in order that God's will would come to pass. Jonathan's love for God and His will is reflected in his love for David. The Apostle John commented further on this matter in chapter 4 of his first epistle.
So we have come to know and to believe the love that God has for us. God is love, and whoever abides in love abides in God, and God abides in him. By this is love perfected with us, so that we may have confidence for the day of judgment, because as he is so also are we in this world. There is no fear in love, but perfect love casts out fear. For fear has to do with punishment, and whoever fears has not been perfected in love. We love because he first loved us. If anyone says, "I love God," and hates his brother, he is a liar; for he who does not love his brother whom he has seen cannot love God whom he has not seen. And this commandment we have from him: whoever loves God must also love his brother. (1 John 4:16-21).
If it's "love" we want to discuss in Jonathan and David's relationship, it is this kind of love...a supernatural one that definitely and completely and overwhelmingly surpasses any love a man can have for a woman...or even for another man. The homosexual community must deal with this issue of gospel-driven love. If gospel-love is supernatural, far surpassing any love they claim to have for each other, then Jonathan and David's relationship can no longer be used as a justification for the lifestyle.
Instead, the rest of the Bible on gospel-driven love must control the paradigm and lifestyle so that it is seen to be a message of good news about the regeneration of a heart like King Saul's, into a heart like David and Jonathan's, as well as a reversal of the effects of sin's contamination of the human race, culminating in a renewal of the image of God originally intended at creation.