Lord I'm Desperate for Gospel-Dependence
Wednesday, March 07, 2007
I'm physically tired, weakened by the stress of workload and travel.
My brain feels like it has been captured by business.
I haven't read or studied the Word intently for days.
Prayer is too quick.
The separation from the Lord is causing anxiety.
The temptation here is tremendously difficult.
I confessed to my wife last night that I'm beginning to feel like a secularist...transforming into a nominal Christian.
This life-transition is still difficult: moving from an eighteen year experience in one arena of vocation to another. My energies used to be consumed by a study of the Word, preaching and teaching, shepherding, counseling, and discipling. Now my energies are consumed by doing business. Both are glorifying to God. But doing business has settled so naturally into my life that I feel that the one has almost completely substituted the other.
My wife's response is simple: now you
know
how the average "pew-sitter" felt while you were trying to minister to them all those years.
There are only so many hours in the day. Few are used for sleep, most for work, some for family. We begin at 5:30 and end around 10:00 to 10:30. There seem to be no hours during this time to settle in for a decent season of communion with my Savior. Consequently.....there's the reason for the feeling that I'm becoming a Sunday-Christian. It's now my favorite day of the week....whereas before it often felt like another day of the week.
I'm learning much through this. Sympathy - now I can really feel what most other people feel when it comes to walking with Jesus. Sabbath-Lover - now I really love the day of rest in the Lord and look more forward to it than ever. Disciplinarian - now I'm much more purposeful than ever in carving and guarding time with my wife and children. Husbanding - because of the discipline life is more intentional and peaceful with the wife of my youth. Fathering - because of the discipline our fun and training is much more focused and intense.
But again.....the temptation is dreadfully apparent.......the temptation to depend on me.
While learning these other important things I am not learning the most important thing....the one thing that is most crucial to all the other important things. Depending on God. I thank God for my care group leader who "happened" to mention this in passing after I called him with some of this yesterday. For the first time in my life someone at work said I'd been "grouchy." Actually, I was being intentionally rude. People were invading my personal space standing around in my borrowed office space talking with their cheery smiles while I sat slumped in my chair focusing on the completion of my task list. The gal who said that was right. I was acting just like my wife pointed out yesterday - like Oscar the Grouch.
I've not perceived such a temptation before to neglect the gospel and depend on myself. If the gospel teaches anything it blasts like a tornado siren that I cannot do anything by myself. Jesus made that pretty clear in John 15: "without me you can do nothing."
Nothing.
As R.C. Sproul said once, "that nothing is not a little something."
A dear friend counseled me a couple months ago that the words of Eric Lidell were helpful to me. "God made me for China. But He also made me fast. And when I run I feel His pleasure." In a similar manner, God made me for pastoring. But He also made me a good manager. And when I manage I feel His pleasure. I truly do.
But two temptations lurk around me like a hungry lion. First, my personality and bent urges me to lunge forward and plunge into my work. I take pleasure in what I do for a living and feel God's pleasure as I succeed. But I want to feel God more than I want to feel His pleasure. That makes sense to few who incessantly camp around the fires of theological objectivism. But I do believe that God is the gospel. And if I do not have Him but only have His pleasures, I will surely rot away inside with grief and dissatisfaction.
The second temptation is to respond in continued independence. If after falling to the first temptation to be dependent upon self's power to do the work in the first place I fall to the second temptation to regain a sense of fellowship with God by self's power, I'm twice a fool.
Yes...indeed....I'm am currently that fool.
But I will not be thrice the fool by responding to a third temptation with the same response as the first and second. I must hear the gospel's siren to run and find a hiding place in God. He's my storm cellar. Hiding under a table when the tornado of work and responsibility blows through town is as foolish as tying myself to a light pole in a hurricane. Everything gets uprooted, blown around, and destroyed.
I've got to hide underground. The gospel calls me away for purposeful seasons of intentional recommitment in utter, complete, thorough dependence on Him to do for me what I cannot do for myself. Again, the pleasurable feeling of completing a task on the list is eternally insignificant compared to the pleasure of His presence in my mind and heart.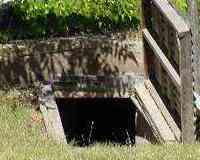 This hiding can be in a bathroom for ten to fifteen minutes, finding solitary solace in His presence. It can be in my truck renewing passion for Him with music worship. It can be a quick run to the park to that bench no one else knows is there, much like Jesus departed to the mountain to pray. It can be to that part of the house I don't visit as often as I do my office, to sit in the dark and wait on Him.
I desperately need gospel-dependence. I desperately need gospel-desperation. I desperately need the gospel.
I am acceptable to the Father because Jesus finished His mission, not because I finish my task list. God is pleased with me because of the business His Son transacted, not because of the business I transact. I am justified because God bought me out of the slavery to sin into which I had sold myself, not because I am selling franchises to buy my way into financial security.
God give me a greater sense of the gospel.....I beg you.