The Vicarious Substitution of Christ in Overcoming Temptation - A Historical-Redemptive Meditation on Adam, Joseph, and Jesus
Thursday, April 06, 2006
Redemptive history is perhaps one of the greatest and newly charted territories of theology in the last fifty to seventy-five years. It affords us not only a bird's-eye view of God's redemptive purposes from Adam and Eve to the Second Coming, but it also reveals throughout biblical history God's purpose and pattern and plan with humanity: redemption from sin through the righteousness of Another. A comparison of Genesis 2:16-17 with 39:8-10 affords just such an example.
Comparing these two texts points to an interesting conclusion that Joseph was a type of Jesus Christ, obeying God the way the first Adam did not.

Consider the similar contexts in which they both are seen. The Lord God said to Adam,
"You may freely eat fruit from every tree of the orchard, but you must not eat from the tree of the knowledge of good and evil, for when you eat from it you will surely die."
So God had given Adam and Eve free reign over all the garden and they could partake of it all except for one thing.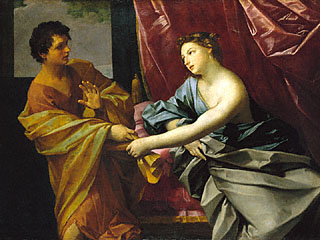 Now compare that with Joseph who says to Potiphar's wife amid constant sexual temptation:
"Look, my master does not give any thought to his household with me here, and everything that he owns he has put into my care. There is no one greater in his household than I am. He has withheld nothing from me except you because you are his wife."
So Potiphar had given Joseph free reign over all his house and he could partake of it all except for one thing.
Adam's response to temptation was to listen to the serpent, allow it to tempt his wife, and then sin alongside her. This plunged the whole human race into death. But Joseph's response to temptation was the following:
"So how could I do such a great evil and sin against God?"
Joseph viewed the temptation in light of the greater framework. Adam did not. Joseph passed the test. Adam did not.

The 'gospel gist' is that we desperately need substitute for our failures in succumbing to temptation. The lesson in Joseph is not just that Joseph conquered temptation by fleeing youthful lust. That is moralistic at best. It is short-sighted and does not even come close to seeing God's historical-redemptive purpose for putting that story in the OT to begin with. If a sermon ends here it is not a Christian sermon. Better sermons on fleeing youthful lusts could be preached from Aesop's Fables.

The bigger picture in the history of redemption is that Joseph succeeded where Adam did not, making the former a picture or type of Christ, succeeding in temptation where we could not and would not.

The ultimate result of Joseph's obedience to God was demise followed by rulership as second in command of all Egypt. The ultimate result of Jesus' obedience was also demise followed by rulership at the right hand of God the Father. Jesus' obedience can be imputed or credited or accounted to our lives before God. His perfect obedience can be mine. Which means that His struggle and subsequent victory over temptation can also be mine.
The lesson here is not
simply
that we must do as Joseph did and flee temptation. No, we cnanot do that until something greater has occurred. Fleeing in victory is preceded by the ownership and appropriation of a substitute who has already been where we now stand and conquered temptation, rising victoriously from it to rule over it. Thus, if we do not stand with Christ or if He is not standing with us, then we stand to fail when we are tempted. There is no consistent or meaningful victory over temptation if Christ is not in that victory as our substitute. It is a "victory," if it can even be called that, filled with our own fleshly, frail, weak, and impotent prowess. God gets no glory in that, and we get no joy in it or from it.
The historical-redemptive lesson of Joseph is not that if he did it we can do it too. It is that we are to think like Joseph as righteous and justified sinners.
Look at what God has given to us in Jesus Christ....and He has withheld nothing from us, including His own Son. (Read Romans 8:32) Giving in to temptation is as traitorous to God as if Joseph had succumbed to the sexual temptations of Potiphar's wife. It is a great evil against God!
Jesus spoke similar words to Satan when He was tempted all three times. To turn stones into bread, for example, would have been to sin against God by not trusting in God alone for all of life's necessities (cf. Deut. 8). And to jump from the temple roof would be to sin by foolishly putting God's faithfulness to the test when God had already proven His faithfulness. And to bow down to Satan in order to get all the kingdoms of the world would be to sin against God by failing to realize that He already owned it all to begin with! God, like Potiphar, had withheld nothing from His own Son. So there was no need to distrust His heavenly Father's faithfulness by yielding to temptation.

So from Adam's failure to Joseph's victory as a foreshadow of our consummation and victory in Jesus Christ, the comparison of texts points to the cross where Jesus Christ became our substitute. He accomplished for us what Adam failed to, and what we likewise would have failed to accomplish. Vicarious obedience and substitution and victory are the key truths here. And unless we appropriate them we will lose our battles when tempted by the devil with candy-coated desires that inevitably kill the soul.
With J. Gresham Machen (founder of Westminster Seminary and the Orthodox Presbyterian Church) on his deathbed January 1, 1937 , I concur:
"So thankful for the active obedience of Christ. No hope without it."