A Personal Example of My Need of the Gospel: What NOT to do when a Sale Just Won't Stay Closed!
Monday, January 30, 2006
Last week I blogged about the
Gospel in the Life of a Salesman
. The waters stirring beneath that post were tempestuous, though I tried not to allow it to show through in the post itself. The reason the waters were rough were because of the fact that I have been on the sales team of my company since the first week of September and have, until this afternoon around 2:30 PM EST, had sold nothing since the very first week I started. I closed a very small deal the fourth day with the company...a 'jinx' to a salesman, from the world's perspective.
Imagine if you will the kind of pressure I've been under then, to be working as a salesman, for a sales team, challenged with the job of selling a quota to keep a job. Thankfully, I work for a good God who partnered me with a Christian owner who has a decent grasp on the sovereignty of God in sales. He put no pressure on me. But I felt it nonetheless because, after all, I am in sales.
Last week I closed the deal I closed again today. It was Tuesday. I was pumped. After about a month's worth of work, final questions were answered, the paperwork signed, and I was off to order the equipment and set the install date. On the way home, around 5:30 pm, the deal fell through. The company had been told back in November that their lease on their telecom equipment was up and that they needed to go month to month or upgrade the equipment.
Enter me about the week before Christmas. I talked with them by phone and then met after the new year. They stated the same thing to me. So I 'assumed' they knew they were at the end of lease. As it turned out last Tuesday, they were not, but had six more months to go. That rocked y world emotionally and spiritually. You see, what I close in January doesn't pay out til March. I needed the close to have funds in March. I didn't close anything in December, so I have "nothing" in February. Needless to say, I fell into the temptation, rather immediately I might add, that I had been hung out to dry by the Lord.
Depression set in, along irritation, anger, frustration, confusion, and eventually the feeling of imminent apostasy. Yes, I'm feeling-oriented...I know it's terrible...actually it's awful. But repenting of that (along with everything else, like perfectionistic tendencies) is obviously difficult. I'm a desperate sinner desperately longing for a Savior. People with my tendency of feeling-orientation usually feel things - internalizing and personalizing situations, circumstances, people, events, etc. - at a deeper or different level than others. I took the closed deal, in essence, reopening as something personal. To a certain extent it was. It was a personal test from the Lord to see what was in my heart, to see whether or not I would live on every Word that comes from the mouth of the Lord, or whether I would live on sales alone (cf. Deut. 8:1-10).
So I went about life depressed Tuesday night, all day Wednesday, even foolishing skipping our men's care group last Wednesday night because I did not
again
want to be the subject of prayer and encouragement
again
. I'm being purposefully redundant with my 'agains' because I have so often before been the subject of attention in my care group. Hey, what can I say here except that as I said before, I'm desperate for the Lord which makes me a very, very, very needy person. So instead of going I stayed home and for the rest of the night doubted the Lord, His goodness, and my desire to follow Him.
Thursday I woke up and gave in to the impetuous but holy impulse to "depart to a mountain to pray" just as Christ did while He was on the earth. I spent the day at Talullah Falls, at the bottom of the 1200 foot deep gorge, praying, wrestling with the Lord, battling frustration and confusion. It was around 2:30 while sitting atop a sheer face cliff, 1000 feet above the gorge, that the Lord graciously restored some measure of joy to me while I was reading Scripture and reading the last chapter of John Piper's book When I Don't Desire God: How to Fight for Joy. The chapter has been a source of encouragement many times before. I believe it is called "The Dark Night of the Soul" and handles the subject of depressed saints, like myself at the time, who find joy almost completely out of grasp.
Self-absorption and small-mindedness
were one of the things Piper addressed. I was hit hard with these two. They were undoubtedly true of me. (Sorry if you may be offended by the photo...but it accurately depicts my frame of mind sometimes!) My universe had been reduced to something so small as closing a sale. I had become almost completely absorbed with something that is really insignificant in the context of everything else God is doing in my life. So I repented, lept for joy, and skipped the rest of the trail back to the van. I stopped at Cracker Barrel on the way home for some dinner, read through the last half of Job to give me perspective once more on my gripes and complaints in comparison to God. Then drove home, walked in the door with renewed joy for my wife and family, slept good, and woke up to go at it on Friday.
Just before lunch, the V.P. of my company called, inquired about the deal that didn't close the right way, and committed to take care of it. I didn't know how, but was glad, yet strangely now, not so controlled by it that my emotions were over-stimulated. I simply responded, "That'd be really swell, and I'd appreciate it so much." Forty-five minutes later, he had worked it out,the paperwork was on my desk, and I was told to take it to the business on Monday and close it.....again.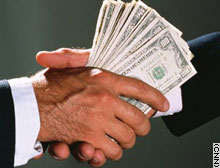 I did. It went smooth. The deal was signed.....again. The credit card charged for the first two months payment....the equipment ordered....and the install date kept. What's the point of all this personal rambling? What's the lesson here?
Only the gospel. God is gracious to us despite us. While I was acting like an enemy of God, Christ had already died to save me. While I was helpless, Christ already died to help me. While I was a sinner, Christ's death had already saved me. Read Romans 5:6, 8, and 10 to review these points. There's really not more to the point than that, is there?
My life, all of our lives, are about the gospel of Jesus Christ. He aims to teach us the gospel, and if we die having never learned anything else, we will have learned all we needed to learn. Even if we die after troubling trials like the one I had last week. Like a prodigal son, I ran back into the arms of a loving Heavenly Father. And I'm sure I'll have to run back there again. The Gospel keeps me in His arms. And the gospel drives me back into His arms when I'm in sin. Thank God for the gospel, the good news of what His Son has done for me, and is doing for me, because, for some strange, unexplainable mystery, He chose to love me.