Doing Evangelism Like Jesus: Being a Friend of Sinners
Thursday, December 15, 2005
Doing Evangelism Like Jesus: Being a Friend of Sinners
Preface: After posting this piece, my wife read through it and remarked, "I wonder what kind of comments you'll get tonight!" When I asked her what she meant, she responded, "Your post is raw." She was referring to some of the content of this post. I guess you could say it is rated PG. But as I told her a second ago...raw is real. I think the pastorate had so shielded me from the reality that Jesus Himself experienced so often in His ministry that I had stayed away from it, felt uncomfortable around it, and virtually ignored it. That is the challenge behind this post.
One of the things I was looking forward to the most about stepping out of the pastoral ministry as a vocation was the ability to do evangelism the way Jesus used to do it. If we stop and reflect on how much difference there really is between the office or vocation of the pastoral ministry and the ministry of Jesus, we'll be mildly shocked. To be sure, there is a necessary difference. He had a specific job to accomplish while on earth and He had a specific amount of time in which to get it all done. That's where we must be careful when making a comparison of the two. But the are other comparisons which ought to give us cause to rethink how we do ministry.


One of those comparisons has to do with the method of evangelism. I love the way my friend Jim Elliff described it in a couple of sermons ("The Value of Hanging Out" and "A Different Style of Evangelist: Laborers on the Loose". When he read through the New Testament again and again, he observed Jesus basically just 'hanging out.' Obviously, as the Son of God who had come to do the Father's will, there was a very specific purpose and plan to the 'hanging out' that He did. When we see Him, for example, 'hanging out' among prostitutes and tax collectors, the scum of the town, this wasn't just haphazard 'hanging out.' He wasn't hanging with the sinners just to kill some time. He was on a mission. And it was to seek and save those who were lost. As He taught the Pharisees once, only those who were sick needed a physician. Lost people are sick. Many of them know it. And those were the ones Jesus 'hung out' with.


I did some 'hanging out' tonite. For the first time in a long time, my business had me hanging out around a bar for a business Christmas party. I belong to a business networking group which meets every Thursday morning to pass referrals to each other....to help each other build our businesses. We had a little informal get together tonight. And much of it involved alcohol, swearing, dirty jokes, innuendos, shop talk, meeting spouses, and all the other stuff sinners do when they hang out together. Sound like it would make you uncomfortable?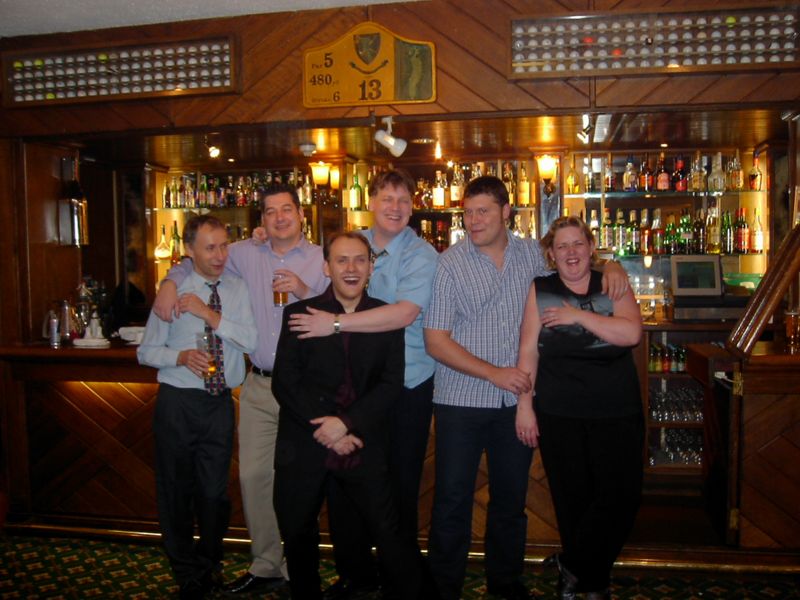 There was a time when it would have. There's just something 'icky' about hanging out around that kind of stuff. But we too have a mission. We just don't hang out around sinners haphazardly, or just to kill some time. My mission was like Jesus...to seek out and save those who are lost. I want to show them a Saviour.

They desperately need one. I sat next to a gal who I'll call Judy for the sake of this post. I asked her about her marriage and she immediately spilled her guts, if you will. We have known each other for four months. And you know what? I'm glad she felt comfortable around me to spill her guts. I began by asking her if she was married. Sore spot. She said she didn't know because she hadn't 'been laid in seven years.' Yep. That's what she said. Sorry if it makes you feel uncomfortable reading it...and sorry if it is offensive. But that's the way lost people talk. It shocked me too.

My response? "Judy, I'm not sure how to respond to that." Here was the perfect chance to ask "WWJD?" I just said I was sorry her marriage was like that, and that God had not designed marriage to be like that. She replied that she thought her husband was gay but because his parents were religious, born-again fanatics, he was too afraid to come out of the closet and say so. She said she wished he'd make up his mind and just be honest with himself. She wanted him to just be authentic.

I asked her if they'd been to counseling. They had been a couple of times. But her husband, per Judy, responds with a glazed over look when the counselor points out things that he needs to change. Evidently, I get the impression that while he may be a genius intellectually, he's a child emotionally. I responded with compassion again. I waffled between making her jealous with my marriage and giving her a model of what it should look like. So I simply told her I couldn't imagine what that must be like since I treasured my wife so much and wouldn't know what I'd do without her. It worked. She came out of her shell even more.

She confessed that much of the problem was her part in the marriage. They had adopted a teenager some time back. When the teen entered the home, she poured her time and energy there and left her husband hanging high and dry. Her words, not mine. So she acknowledged her error, knew where she was wrong, and described herself with some swear words that were actually quite appropriate.

I laughed with her. I hurt with her. She felt eased and relaxed enough to open up to me, to joke with me, to slap me on the back when I made a funny. I felt like Christ was pleased, for I was praying and anticipating an opportunity to 'hang out' with sinners, to continue the mission He started...to seek out and love sinners.

After about two Michelobs there was a noticeable change in our conversation. That's after she had two of them....just so I clear that up. I enjoyed a half a glass of Amberbock while talking with her, and turned my attention across the table to gentleman I call John. He and his wife were in a motorcycle accident several months ago leaving her in a coma. She has made some headway, come out of the coma, and is now on a very slow road to recovery. He is staring at a one million dollar hospital bill, of which he'll have to cover about twenty percent...and the process isn't done yet. After a couple of dirty jokes scattered with swear words here and there, and joking with some frustration that he had not had any sex since the accident, he made the remark that this accident has changed everything for him...sort of set priorities straight, helping him to see things differently.

I recounted the loss of our second son in 1997. We ached together momentarily about each other's plight. And I shared how that incident had changed my outlook on life as well. It was massive bridge building conversation that will hopefully continue in the near future.

Jesus was despised for hanging out with such folks. But these are the ones He came to save. They are all funny and bubbly on the outside. But on the inside they are hurting. And they are hurting deeply...usually about something. And what is more, they usually know they are hurting. They want help. They want comfort. And tonight a couple of them got it around a bar, drinking Crowne Royal, Michelob, Bud Lite, Martinis, hot wings, chicken fingers, and buffalo shrimp. To reach the sinners, I've got to go where they are. And I can't pass up legitimate opportunities to 'hang out' with them in order to tell them about the love of Jesus.

Too often, some will misunderstand me as giving them a license to go out and party, dance, and drink in the name of missions. That's not what I'm saying. So give a good slap upside someone's head if they think that's what I'm saying. What I'm saying is that when there are opportunities that come my way to be with lost people in an environment I can somewhat control, I need to seize it, hang out with them, listen to them, laugh with them (when it's appropriate), cry with them when they hurt, and have compassion on them in their pain and sorrow, whether they understand that pain and sorrow or not.

I pray for more opportunities to live like Christ, to come out of my religious shell and into reality, and to stop being so concerned about my comfort level around lost people and more concerned about their eternal happiness and joy in Jesus.

If you have stories to share that will emphasize this point I've tried to make, share it in the comment section below. Share pointers you've learned along the way to help me personally. Share dangers and cautions to be aware of. And share personal insights into the public ministry life of our Savior if you have any.