God's Divine Healing: A Means of Redemption, Part Two
Tuesday, September 27, 2005
God's Divine Healing:

A Means of Redemption,

Part Two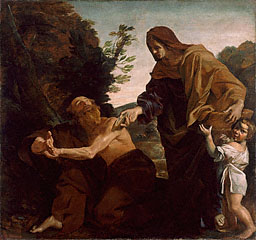 The first two examples of what I discussed yesterday are Elijah and Elishia. Consider an example from the life and ministry of Elijah first.
He became the first prophet to the pagan Gentiles when he obeyed God's command to visit a widow in Zarephath. The evil queen who sought to kill him, Jezebel, was from Sidon (1 Kings 16:31). As a Baal worshiper, she simply followed in the footsteps of her native city. This means Elijah was commanded to visit a probable Baal-worshiping widow in a pagan Gentile city. (As a side note the irony of this is amazing. Jezebel is seeking Elijah's life, and God gave him a hiding place in her own city where of her own fellow citizens is won over to the God of Israel!) When the widow's son became sick and eventually died (1 Kings 17:17), Elijah prayed to God and healed him. The result was that, "The woman said to Elijah, 'Now I know that you are a man of God, and that the word of the Lord in your mouth is truth'" (v. 24). A pagan Gentile, Baal-worshiping widow was redeemed by the God of Israel because her son was raised from the dead.

Elisha was Elijah's successor, a man on whom a double blessing was given. This translated into twice as many miracles being performed on the part of Elisha as Elijah. One of these miracles was the healing of Naaman in 2 Kings 5. He was the "captain of the army of the king of Aram, was a great man with his master, and highly respected because by him the Lord had given victory to Aram" (v. 1). Aram was also known as Syria, a pagan country. When the king of Assyria had pushed his conquest as far west as Syria, taking the whole country as his loot, Syria rebelled and managed to gain independence for a short time. It was probably during this time that Naaman managed to make himself well known and gain respect for himself. But he was a pagan infidel nonetheless. But he had this nagging disease – leprosy. Elisha gave him simple instructions – "Go and wash in the Jordan seven times, and your flesh shall be restored to you and you shall be clean" (v. 10). This is just what Naaman did, yet not without some complaining (v. 11-12). But upon conceding to the prophet's command, "his flesh was restored like the flesh of a little child, and he was clean" (v. 14). The result? "When he returned to the man of God with all his company, and came and stood before him, he said, 'Behold now, I know that there is no God in all the earth, but in Israel…" (v. 15). Another pagan redeemed from evil humanity by a gracious and merciful God through the divine means of healing.
Tomorrow, I'll pose two more examples, one from the life and ministry of Jesus, and one from the ministry of the Apostles.